Large cutterhead straw cutting machine is a common auxiliary device specially used for mass production of flat straw. Single knife cutting, and the incision at both ends of the straw is smooth and beautiful. Traction unit(belt traction or rubber wheel traction,you may select if you want).
Use the belt traction unit, you can adjust the size of the belt traction staggered Angle. The belt traction is specially used for the production of helical stripe straw. The helical Angle of the color bar can meet the maximum 160mm length of a revolution.
Rubber wheel traction unit, durable and elastic, specially used for the production of straight form of color bar straws. It is usually used in combination with the belt management device equipped with stainless steel receiving hopper, which greatly reduces the labor intensity of workers, and one person can operate multiple equipment.
Applications:
Drinking industry: drinking straw, lollipop, coffe stick, oral liquid straw
Other industry: signature refill, cotton swab stick, medical tube, perfume pipe, balloon pole, flag pole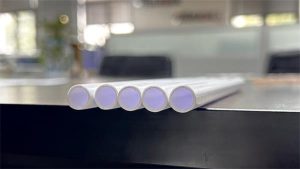 Specifications :
 Take up & Cutting Unit
Take up unit
1 set
Motor
0.75kW×1(VFD)
Cutting knife unit
1 set
Motor
0.75kW×1(VFD)
Angle of port
90°/60°/45°
Digital counter
1 set
Technical Feature:
1.Traction unit is driven by 0.75KW AC motor. Large cutterhead straw cutting is driven by 1.1kw AC motor, with a separate frequency converter to control the speed, the operation is more simple and convenient.
2.The length of the straw produced: 150~280mm; Straw diameter: φ2.0~12.
3.Straw port form: flat.
4.Hopper in stainless steel is set at conveyor, which can automatically and neatly collect the straw.
5.Working table and protective cover are made of stainless steel, it can be waterproof, rust proof and easy to clean.