Model ML11 is a tube extrusion line, composed of extruder and die, size setting and water cooling unit, haul-off unit, rotary cutter unit. The series machines can produce all kinds of drinking straw with one color, medical pipe, all the machine's controls base with the control elements ergonomically adapted to permit easy operation.
Applications Of PP Plastic Drinking Straw Making Machine:
Drinking industry: drinking straw, lollipop, coffe stick, oral liquid straw
Other industry: signature refill, cotton swab stick, medical tube, perfume pipe, balloon pole, flag pole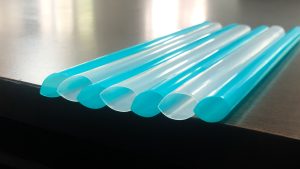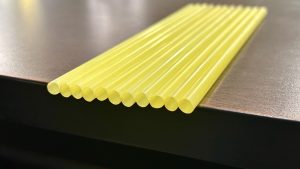 Specifications PP Straw Making Machine:
Model
ML11
Feature
Material
PP  PE
Color
1
Straw diameter
φ3.0 ~ φ12 mm
Thickness
0.10 ~ 0.35 mm
Straw length
80 ~ 300 mm
Capability
400 ~ 1800 pcs/min
Extruding output range
20 ~ 40 kgs/hr
Extruder
Main Screw diameter
φ50 mm  ( BM Screw)
Screw  L/D
28 : 1
Main driving motor
11 Kw (VFD)
Gearbox
ZLY133
Automatic thermo-controller
5 sets
Heating power
8.1kw
Water tank
Forming device
1 set
Vacuum Pump motor
1.1 kw(choose)
Water storage tank
(length)3400 mm /304 Steel stainless
Base frame material
(304 Steel stainless)
Blow dry device
1 set
Take up & Cutting Unit
Take up unit
1 set
Motor
0.75kW×1(VFD)
Cutting knife unit
1 set
Motor
0.75kW×1(VFD)
Angle of port
90°/60°/45°
Digital counter
1 set
Others
Air compressor
1.5kw(choose)
Dimension LxWxH
8m×0.9m×1.6 m
Machine weight
1800 kgs
Technical Features Of PP Straw Making Machine:
1.The extrusion die can be special designed and easy exchanged to produce pipe and shaping stuff.
2.Water bath in stainless steel can be adjusted in three planes.
3.The haul-off unit can be belt or rollers, it is customizable. Fitted with double rotary cutter. Cut angle: 90°/45°, 90°/60°.
4.Conveyor device(you may select if you want).