Model ML12A is a tube extrusion line, composed of two-color co-extruder and die, size setting and water cooling unit, haul-off unit, rotary cutter unit, air compressor. The machine can produce all kinds size of two-color drinking straw、spiral strip straw. All the machine's controls base with the control elements ergonomically adapted to permit easy operation.
Applications Of PP Straw Making Machine:
Drinking industry: drinking straw, lollipop, coffe stick, oral liquid straw
Other industry: signature refill, cotton swab stick, medical tube, perfume pipe, balloon pole, flag pole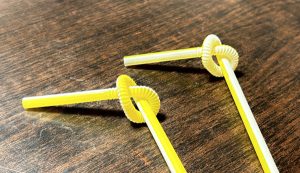 Specifications PP Beverage Straw Extrusion Machine:
Model
ML12A
Feature
Material
PP
Color
2
Straw diameter
φ3.0 ~ φ12 mm
Thickness
0.10 ~ 0.35 mm
Straw length
80 ~ 300 mm
Stripes
Straight or Helical
Capability
400 ~ 1800 pcs/min
Extruding output range
20 ~45 kgs/hr
Extruder
Main Screw diameter
φ45 mm×2  ( BM Screw)
Screw  L/D
28 : 1
Main driving motor
7.5 Kw×2 (VFD)
Gearbox
ZLY112
Automatic thermo-controller
11sets
Heating power
14 kw
Water tank
Forming device
1 set
Vacuum Pump motor
1.1 kw(choose)
Water storage tank
(length)3400 mm /304 Steel stainless
Base frame material
(304 Steel stainless)
Blow dry device
1 set
Take up & Cutting Unit
Belt take up unit
1 set
Motor
0.75kW×1(VFD)
Cutting knife unit
1 set
Motor
0.75kW×1(VFD)
Angle of port
90°/60°/45°
Digital counter
1 set
Others
Air compressor
1.5kw(choose)
Dimension LxWxH
8m×1.2m×1.6 m
Machine weight
2800 kgs
Technical Features Of Straw Extrusion Machine:
1.The extrusion die can be special designed and easy exchanged to produce pipe and shaping stuff.
2.Water bath in stainless steel can be adjusted in three planes.
3.The haul-off unit can be belt or rollers, it is customizable. Fitted with double rotary cutter. Cut angle: 90°/45°, 90°/60°.
4.Conveyor device(you may select if you want).