ML28 Telescope Tetre-pak Straw Auto Making & Packing Machine is a auto machine that contienuesly move inner straw into out straw, and forming telescope straw, includes straw hopper, enlarging inner straw unit, shrinking outer straw unit, aligning and moving straw unit, heating system unit, packing device, haul off device, driver system, film plate, feeding out and conveyer system , electric controller system etc.
It is high efficiency machine, can change some spare parts to produce different size telescope straight or flexible straw. You can choose the auto Mega box machine after the telescope machine.
Applications:
Drinking industry: drinking straw, milk straws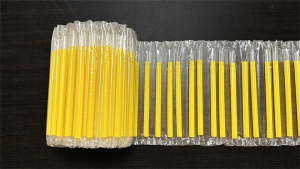 Specifications :
Model
ML28-φ5-6
ML28-φ6-7
ML28-φ11
Capability
250~350(pcs/min)
180(pcs/min)
Specification of Wrapping material
BOPP film
BOPP

Materials that can be hot sealed Such as BOPP

Diameter of roll
(maximum)340mm
Diameter of roll
(maximum)340mm
Width of film
(maximum)190mm
Width of film
(maximum)190mm
Type of packing
I-Shape Tetra-pak
I-Shape Tetra-pak
Interspaces of straws
15±0.1mm
(24mm)Customizable
Main motor
2.2 kW (VFD)
2.2kW (VFD)
Hopper motor
90W*2
90W*2
Heating power
12 Kw
15Kw
Automatic emergency stop equipment
2 set
11set
Automatic counter
1 set
1set
Conveyor collecting device
1 set
1set
Specifications of straw
Specifications of straw
5-6mm
6-7mm
11mm(Special customizable)
φ4.5mm
φ5.8mm
/
φ5.1mm
φ6.2mm
/
Length of straight straw
101mm~105mm
101mm~105mm
101mm~105mm
Thickness of straw
0.18±0.02 mm
0.16±0.02 mm
0.24±0.02 mm
Machine weight
3500 Kg
3000KG
Dimension
1600mm(W)×4600mm (L)×1500mm(H)
1600mm(W)×5000mm (L)×1500mm(H)
Other specifications are customizable
Technical Feature:
High degree of automation (flaring, shrinking, bayonet, sealing, pipe through, packaging integrated automatic production).
Counting, traction, packaging, bag-making process continuous production.
Equipped with repair device (unqualified products cutting repair).
Heat sealing device with vacuum hub core, film unwinding adopts front-end mechanical tension adjustable device, on-line adjustment is convenient, packaging pitch is stable.
Automatic product counting, High efficiency and high production rate.
Molding part, packaging part, speed can be adjusted.
Frequency conversion speed control, automatic shutdown over overload, reliable and stable operation, uniform speed change.
Telescope straw machine include:
Telescope Tetre-pak Straw Auto Making machine
 Telescope straw conveyor device
 Auto packing machine
 Telescope straw repair device