ML39 group straw auto packing  machine is a machine of packing group straws, it can be used  film to pack 50~150pcs straight and flexible straw in one bag. The machine provides a high packing rate; it is controlled by PLC, it not only makes your straw packing operation easier, but also provides you with a high reliability.
Applications:
Drinking industry: drinking straw, lollipop, coffe stick, oral liquid straw
Other industry: signature refill, cotton swab stick, medical tube, perfume pipe, balloon pole, flag pole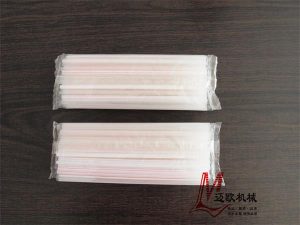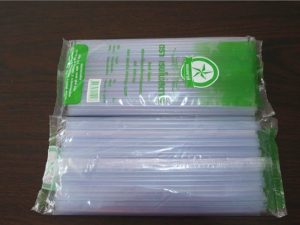 Specifications :
Capability
8~12bags/min
Quantity set
50~150pcs/bag
Motor
180W×2  90W×1
Heating power
160W×4
Back wrapping wheel
2 sets
End wrapping blade
1 sets
Conveyor
2 sets
Wrapping material
Plastic film
Wrapping type
3 side pillow seal
Width of film
240~400mm
Specifications of straw
Diameter of straight straw
φ5~8mm
Length of straight straw
170~250mm
Machine weight
500kgs
Dimension
1000mm*1800mm
Other specifications are customizable
Technical Feature:
1.Multiple straw packing, filling&packing ,cutting at a time, Quantity of straw can be adjusted freely.
2.Automatic product counting.
3.Packing speed can be adjusted freely.
4.Can packing many diameter straw after changing counter wheel.