Applications:
Drinking industry: cotton swab stick, medical tube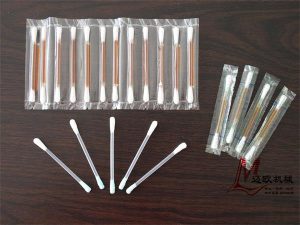 Technical Feature:
1.With cutting edge device: cotton swab at both ends of the packaging film neatly, evenly.
2.With the opening device: the cotton swab in the use of the process can be easily removed, convenient and sanitary.
3.The device adopts the mechanical tension adjustable device, and the film scroll to the position can be adjusted.
4.Heat sealing with cast aluminum contact conduction heating mode, fast heating, high efficiency, small temperature gradient, long service life; the measurement is accurate and reliable.
5.Using the vacuum drum cutting type plastic mold, replacement of products with different specifications and convenient, comprehensive use of low cost.
6.With mechanical type code machine, can be online printing: production batch number, production date.
7.With cold cut device: the cotton swab is easy to tear off line connection or independent cut Off.
8.Special specifications can be customized.